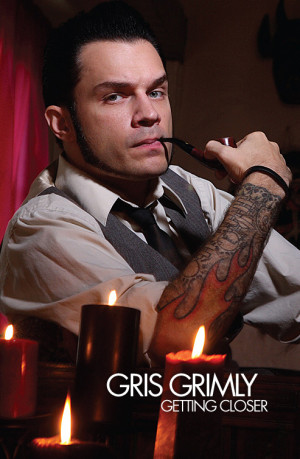 Marianne Williams | Citizen LA
I get the call to write a piece about Gris Grimly. First thought: research. My sleuthing online gave me some visuals to put with his name, but I still had no real sense of who Gris Grimly is as a person. What I find states that he hails from an "unnamed town" in the midwest, that he does not give out his real name, nor does he reveal where he went to school.
Intriguing.
What I get from Gris Grimly is that he is very dedicated to his work, and quite honestly, that is pretty much where our conversation focused. While I admit that a part of me was so taken with his need for secrecy, I was internally compelled to push in that arena. But on the other hand, I greatly respect a person's request for privacy. Result: I did not push.
But it's in the back of my mind the whole time.
Meanwhile our conversation was full and he was more than willing to answer my questions, centering mainly on his work. What he likes most about his work is that he gets to produce art that is about monsters and horror. I asked if it was the art or the subject matter that was the driving force there.
Subject matter.
In fact, Gris surrounds himself with memorabilia of horror films, it makes him happy.
At about five years old, Grimly switched over from drawing animals to monsters and horror and he's been there ever since. He has even made a film that situates itself within and without of the genre.
Within and without.
Huh?
Cannibal Flesh Riot is a 30 minute short that Grimly shot in 2005. The film was released in theaters in 2006 and then to a limited edition DVD in 2007. Apparently the film refuses a standard categorization. It is it's own genre.
Within and without.
It is a comedy tale of two ghouls looking for food in a graveyard. It is not a horror film, rather, it is a character driven story. But with its look of an old 1950s B horror film, it will often attract horror fans. Who, Gris tells me are often disappointed with the movie.
From what he tells me about the film, it reminds me of a typical French film, where the conversation between two characters drives the story. Different from the big American blockbusters of today which have a more formulaic approach, his film actually reminded me of a film I saw in France. I tell Gris about the experience. I have no idea why I meandered into this conversation with Gris Grimly, but I did.
But then again, there's sill that lingering question in the back of my mind.
Maybe what I was doing was trying to establish some rapport with him, maybe I still wanted to have more access to that which he had previously marked with a big "Do Not Disturb" sign. Maybe I wanted to get a little more personal with Gris. "I show you mine, you show me yours" kinda thing.
Didn't work.
So, I got back to asking him about his work. He is currently working on a sequel to his 2003 Tales of Death and Dementia, illustrated works of Edgar Allen Poe. In this current sequel, he is doing 140 illustrations. I am blown away. The typical children's picture book has a maximum of 32 illustrated pages, and this can often take an illustrator a year or more to complete. One hundred and forty illustrated pages. Wow.
The conversation then meanders to the subject of fine art and illustration. Gris has two separate sections on his website portfolio. Looking at the two, I find it hard to distinguish the criteria upon which he makes his distinction. According to Grimly, his fine art work is done more in mixed media, and focuses more on political or social ideas, while his illustration work paints a picture and is narrative alone. I am not totally sure that I get it.
It's the end of the conversation, I can't hold back. So I ask, not where he is from, but why he doesn't say. He says that it is not out of shame, he just wants to maintain a level of privacy.
That's as close as I got.
Andee Eve Husney is an artist living and working in Atwater Village.
(Editor's Note: Private? Mysterious? Tight-lipped? I had to meet this guy for myself. Luckily, a few days before going to print I was presented with an opportunity. Mr. Grimly was screening his film Cannibal Flesh Riot at the "Little Cave" Bar in Highland Park. Not only was it perfect for our "Drink of the Month", but I was certain I'd catch him with a drink or two in his system willing to spill-the-beans. So, I enlisted the help of horror-fanatic D.W.Frydendall, hoping that their similar backgrounds would put Gris in a more vulnerable state. One screening and a few drinks later, Gris opens up, sharing unconscionable tales of horror and incredible acts of self-sacrifice. As for the details of our candid conversation, those are unfortunately not going to be printed. It's a long story really, but let's just say, I like my legs… both of them.)


Marianne Williams | Citizen LA
I never know who is going to be on the other end.
I pick up the phone and dial.
I ask to speak to Rony.
The voice on the other end makes me feel so relaxed, so at home. It is the voice of a surfer/skater, his inflection casual, laid back.
My first impression of Rony Alwin is that this is a guy who is really on top of his game. Every once in a while I meet someone who is so keyed in with what is happening, so on pointe. And that is Rony. But the best part is that he is so unassuming about it all, like he just stumbled into it. Here he is, having fun, going to parties, and somehow his photography is at 100+ on the coolness scale and just about everybody who is anybody wants a piece of this hot photographer. So who is Rony Alwin? He is a mellow cat, an understated dude. He is intense, thoughtful, smart, with an extremely discerning eye and a distinct vision. He also has a weakness for spinach lasagna and Indian food.
It seems that all of his time these days is devoted to preparing for the upcoming show at Phyllis Stein Art Gallery on September 11th. Alwin is prepping three different series for the show. Currently Alwin wades through hundreds of images from the pool in which he has made his splash. He is most known for his photobooth work. I ask Rony to fill me in.
A few years back, and fresh out of school, Rony bought a light kit and a Mamiya camera and started taking pictures for extra cash. "It's a good thing I don't live in Hollywood, I'd be partying every day." And that is just what the photobooth work reflects, a party. The party. And Alwin's the life of it these days. He sets up his light kit and captures the essence of what is happening. But there is something more here. Alwin has an eye. And with it, he captures a mode, a feeling. A look through his lens awakens the voyeur in me. And that is what makes his work move from simple documentation to something more.
Looking at the work in the Bad Kitty series, I feel just a bit like I'm seeing something I shouldn't. I feel as though I am peeping into a world that is at once naughty and innocent: a juxtaposition of worlds. It all started when Rony's girlfriend Lauren, an American Apparel model, was over with a few friends. They started taking pictures for fun, and the Bad Kitties were born. The Bad Kitty work showcases young female models engaging in a sort of contemporary pin up circumstance.
There's an innocence in the mood of the work, but at the same time there is a sophistication to the visual. It looks a bit like someone's sister is playing naughty. That is what is so contrastingly appealing and haunting about the series. The models are just slightly awkward and mistakenly sexy. And this feeds into that "oops, I'm seeing something I shouldn't be seeing."
Enchanting.
Well apparently I am not the only one who wants to play with the cats. Rony and two of the Bad Kitty girls, Lauren and Audrey, just got back from a whirlwind tour with Beauty Bar. How did this happen?
Rony is just like that.
I told you.
He's in the right place at the right time, and he can't help it. He stumbles into coolness, as if by accident.
Most of June and July were filled up touring Beauty Bars in Los Angeles, San Francisco, San Diego, Las Vegas and New York. Some nights in the Beauty Bar tour Rony had both the Bad Kitty and the photobooth set up, other times it was just one or the other. And then there were times when the party would get so crazy and packed they had to take it all down.
Rony Alwin isn't just the life of the party, he is the party.
As if this weren't enough, Rony is about to show some of his newest work, The Road Trip series. On the way to a photobooth gig at SXSW in Austin, followed by another in Miami, Rony and Lauren pile into the car and head across the United States. Shooting what Rony calls "American weird stuff," his lens is pointed in a new direction. So what exactly is this, "weird stuff?"
This is where our conversation turns a corner. And I totally get it. Rony is a visual artist. He knows how to say things in images. But I kept trying to get him to describe it in words. Our conversation crumbled about here, falling into in bits and pieces. Juicy morsels of ideas are floating tangents of thought. Alwin struggles to explain in words what he so eloquently says in the visual.
Here's a bit of a wander into Alwin's thoughts, a steam-of-consciousness unfolding, as he describes American weirdness:
"You travel around America and there's an abandoned building next to a brand new Starbucks. Or Graceland. What Elvis did is so American. Graceland is next to a chicken wings outlet. And then Vegas is so weird because you'll have a billion dollar casino and next to it is a dirt lot. If someone finds something beautiful, it will become such an attraction that they'll put a mall next to it and it's not beautiful anymore. There's a mall on the border of Mexico and the US and the fence is in the parking lot."
I completely follow where he was going with these ideas. It sounds a bit to me like a fascination with the juxtaposition of opposites co-existing; while at the same time they are happily annihilating one another.
In the midst of all this work, Alwin still finds time for his biggest luxury, going out to eat. And he is quite the connoisseur of Easterly eateries. It is here in our phone conversation that we truly bond. I love me some good food. And like Rony, if I never have to go west of La Brea, I'll be the happiest girl in the 'hood. Rony tells me he lives on the Eastside.
"Me too," I say, "in Atwater Village."
"There's an Indian Restaurant that I keep going back to there," he tells me, "but the food's not so good."
I have to laugh. And share the joke. I tell Rony that I've never been to the Indian place, but that I almost went there on a first date with a guy I met at a party. I don't know, something told me that this guy wasn't the one for me, so I cancelled.
"Wise choice," Rony tells me. "I don't even think that there's a metal fork in the place. It's a little like a cafeteria."
Nice. I almost went on a date to a cafeteria.
Good thing I trust my intuition.
So what else can I trust these days? Well according to Rony, I can trust the spinach lasagna at Colombo's in Eagle Rock. I can trust Helmut Newton, Richard Avedon and of course, American weirdness.