Citizen LA | Citizen LA
Shrine is beautifully organized chaos. From acting as a circus barker/clown for world-renown Lucent Dossier, to painting murals and artworks around the country, to building massive ornate structures and stages for Burning Man, Coachella and more, he embodies a life of creativity and is excited to share it to the masses. A longtime friend, his home sticks out like a sore thumb in Pasadena. An amusement park for the eyes, his front yard is filled with color and texture. Exotic plants tie into sculptures made of recycled trash, wood and glass. His creations cry out in revolt, marching up against the sidewalk as if they're going to take over the streets and party naked. Adventure is encapsulated in Shrine's life, there is nothing 'white picket fence' about this man, and I'm here to go along for the ride.
Nathan Cartwright: How did you get the name Shrine. It seems quite suitable saying that you are a master of building these types of structures.
Shrine: I was working on a project at Burning Man with a total of three Brents on the crew and it was a bit confusing. It seemed natural to be called Shrine, because I'd been making these things for many years.
Nathan: Are you a religious person? What are your thoughts on the matter and does religion and art mix these days?
Shrine: I'm not religious, I'm spiritual. Life is a mystical experience. Religion and art have always been together. The best artists created the cathedrals and temples of the world in order to connect people with God. Now we have consumerism, the biggest belief system, which is also created by the best and worst artists. My shrines are non-denominational, I try to capture that feeling of Holiness. Inspiration is Holiness. I'd like to inspire people to find the mystical experience that exists all around them.
Nathan: The work you've done in the middle room at The Hive Gallery is quite ornate- Where is your inspiration coming from?
Shrine: The crystal drawings came at a time when I was under a lot of pressure to create something amazing, The Temple at Burning Man 2008. In the middle of that chaos I had just finished 58 intricate paintings on windows, to remember I then had to make more art for a fundraiser and I just said, "Fuck it I'm going to do what i want," and I picked up a sharpie and started drawing crystals just to please myself. With nothing to prove, no worries about sales, drawing in a very primitive way, it all felt so good. I've been drawing crystals ever since. They represent total freedom to me and now the whole series is taking on a life of its own. I don't know where they're taking me and I like that.
Nathan: How did you get involved with Chris Paine, the director of "Who Killed The Electric Car?"
Shrine: I met Chris Paine two years ago when he bought a painting of mine. He had me over to a space he was creating called the Marrakesh House. The house is dedicated to permaculture, renewable resources, green topics and activism in general. The space will be used for events, fundraisers and wild parties. One thing led to another and now I'm building a large shrine in the back called, "Chris Paine's Lemon Tree Tea House", made out of 90% re-used materials.
Nathan: What are your plans for his Shrine and future Installations?
Shrine: My plan is to finish asap then move on to a permanent installation I'm doing at LA Memorial Library, then set up La Familia Divina at the LACMA art walk, then two stages at the big Bounce festival, then a large stage at The Rothbury Festival, then perform in Ireland and Portugal, then a large stage at Symbiosis and then take a nap.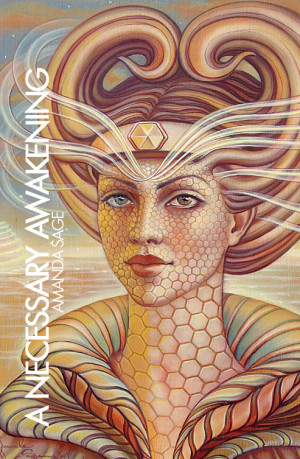 Citizen LA | Citizen LA
Exhibiting in London, Vienna, Munich, Bali, Colorado, Seattle, and San Francisco, Amanda Sage entered LA through Jimmy Bleyer's "Temple of Visions". Her portraiture and visionary works beam bright, crossing hallucinogenic horizons and transcending cognitive plains. Studying overseas with a contemporary of Dali, Amanda has quite a bit to share with the wandering mind. Smiling like a star, she shines with mystic eyes- telling stories in her works that have the light to change things. Those aren't 3D glasses you are wearing; a UFO? No, these paintings are real.
Nathan Cartwright: So what have you been studying in Austria for the last 9 years?
Amanda Sage: I've been studying the 'Misch technique' which is an early renaissance method of painting the 'skeleton' of the painting with Egg Tempera and then glazing in oil. My teacher Micahel Fuchs introduced me to his father, Ernst Fuchs, internationally renowned master and co-founder of Fantastic Realism in the 1950's in Vienna. Some say that Dali passed the golden key of surrealism onto Fuchs before he passed on. I became his assistant in 2000-present, working on various projects including the yet to be completed 'Apocalypse Chapel' in southern Austria.
Nathan: Has Ernst Fuchs been to Los Angeles?
Amanda: Yes. Born in 1930 in Vienna, Austria, Ernst Fuchs told me memorable stories about his time in Los Angeles in the 1950's. Here he discovered Peyote with a group of artists and saw for the first time the energy lines, like the tattooed faces of the Maori, of people on the streets. In general, he has stayed away from chemically made substances, seeing himself more as a medium.
Nathan: How have psychedelics influenced your painting through the years?
Amanda: I am interested in the psychedelic experience mostly for the kaleidoscope of doorways that these substances open up. To perceive space, time and 'reality' through heightened senses has shown me how much I am already channeling and influenced by these parallel worlds that one can experience with psychedelics. Although, I now believe that it is more accessible through becoming centered and open in a natural state. Through opening oneself to 'the divine' hand, the possibilities are endless…
Nathan: What are the visions that have carried you to where you are now?
Amanda: My predominant vision and mission is to instigate and affirm the necessary awakening on this planet. To be a messenger of light? (sounds so utopia and visionary, right!) Well, it's true – I used to want to hide away from such preposterous terms such as 'Visionary' but I've gotten friendlier with it as I really do see a greater mission behind my work and see myself as a part of a greater community of amazing individuals throughout the world that are working passionately towards a similar vision. And this is to inspire and speak to a deeper wisdom that I believe is integrated in all of us which is the hope that we can transcend this illusion of separation and start building a world that is programmed in honor of life, love and compassion.
Nathan: What are your plans for the Sage Los Angeles invasion for the future?
Amanda: Los Angeles is the furthest western frontier, like a giant egg about to hatch, birthing some 5th dimensional plant form here to heal and devour the filth, the sorrow and pain. I like the idea of painting 10 foot+ Egg Portals all over the place, symbolizing new birth, encouraging change, subliminally re-programming our useless patterns and waking people up… or building ships with trees in them on the roofs of these old buildings in downtown… and on a smaller note, aim to be a blessing where ever I am.