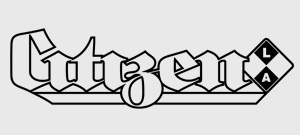 A Lifestyle Media Company & Magazine
Citizen LA, Inc. is a lifestyle media company based in Los Angeles, California.
History
The brand began in Los Angeles as an alternative communication tool for local artists and businesses. Since its inception in 2005, the company utilized traditional and new-media content to entertain/communicate with its audience.
Citizen LA
Citizen LA supports the creative visionaries and social innovators of the world via original stories, news coverage, live broadcasts, promotional events and publicity. The Citizen LA brand supports art, fashion, music, film, theater and all related events that sustain cultural diversity.
Focused Content
Original, focused and entertaining, Citizen LA offers distinctive stories that inspire and inform. Our contributors live the life they cover; bringing to light a true insider's view of their experiences without the "spin". Citizen LA's straightforward writing style has been instrumental in carving a unique niche for itself.
Target Audience
Citizen LA's audience and fan base includes a global consumer market which is drawn to the company's unique brand and original content and the vibrant international arts & lifestyle scene. Citizen LA at its core is about serving the needs of talented individuals and the professional community that supports their creative lifestyles.
Sister Site(s)
Ear Jelly: A interdisciplinary endeavor empowering artists, labels, and PR companies, based in Los Angeles. Please visit us at http://earjelly.com for more information.
Ferrvor : A fashion forward magazine, based in Los Angeles. Please visit us at http://ferrvor.com for more information.
Contact Us
webcontact[at]citizenla.com
facebook.com/citizenla