Blog Archives

fotoboy62 | Citizen LA
The hero… the archetype from the Greek meaning "protector" or "defender," extended to those demonstrating moral excellence; an entity which progresses tenaciously in relative obscurity remaining unknown until a major debut.
We mere mortals may at some moment discover a major influence, someone to emulate or follow or study; that which embodies our version of success. Finding that example, and applying the lessons, is difficult at best.
Consequently, it takes a lot to stand out in LA. It takes even more to remain committed to the honorable conviction of being a role model. Yet the quartet known as Chicano Batman have decided to take up a musical quest in a complex city, which although is over 50% Latino, still caters immutably to other ethnicities. There's no doubt that these gentlemen understand that moving from novelty to "investment worthy" continues to be a tricky path.
There's a draw, a release and a conclusion… and Chicano Batman are on the hunt to fulfill their American Dream. Bardo Martinez, Carlos Arévalo, Eduardo Arenas and Gabriel Villa may have started-out relatively "laid back", but now it's all business. Lucky for us their trajectory follows a host of trailblazing influences from the 70s.
Though my Dad brought me up with Glenn Miller & Bing Crosby, and my mom with Elvis & Vicente Fernandez, it was my grandmother who bought me my first 70s album, KISS Love Gun (yes, with the paper-gun that POPPED). Grandma also bought me my trusty 'ol Realistic radio-recorder, which led to years of Casey Kasem and to an appreciation of musicianship.
And this is what sets certain artists apart, what differentiates a work-of-art from a product… the attention to detail and the respect. Not merely crafting the song, but the actual art of making the music. Over the centuries virtuosos have filled halls with geniuses and intellectuals; those whose sole purpose was to master their instruments. The "final piece" was an inevitable result of all that screwing around, but by no means the ultimate goal.
The 70s were especially interesting when it came to pushing the limits of dissonance, insane arrangements and spiritualism. We had Al Di Meola, Steve Lacy, and Santana; prog-rock gods and disco demons; soul-searchers, punk activists and superhuman storytellers. This decade had it all…
And thanks to Chicano Batman, I get to re-live it again as they take some of the best of the 70s and mold it into a style that is truly unique. But these guys aren't merely doing this for ME; they have embarked on an engaging heroic journey to inspire and entertain us all.
Citizen LA: Ok… You got people shaking their asses. You got really inspiring music. You got soul. Watching the performance, it was obvious the band was having a good time up there… except for you, Carlos, you were a little serious.
Carlos: I have so many things going on with my effects that require a lot of concentration. I mean, I wanna dance around too, but… [sad face].
Citizen LA: Aww, look at that. You don't give Carlos a chance to dance! What's wrong with you guys??
[laughter]
Bardo: We are all pretty busy up there. I play the guitar, the keyboards, and sing all at the same time.
Citizen LA: I think I saw you working a Hacky-Sack too.
Bardo: You know it!
Citizen LA: Chicano Batman, huh? So which one of you is Bruce Wayne?
Bardo: I guess that would kinda have to be me, cuz I came up with the concept. It's all about us being superhero-like in your own right.
Citizen LA: So in this concept I hear: One part Santana… One part Latin Jazz Fusion… And a twist of Marley. No doubt there's a heavy 70s influence in your music.
Carlos: If you live in LA you hear Art Laboe doing the Oldies on Sundays, and that's been since we were little kids.
Bardo: A lot of what I listened to came from my Pop's records and cassettes.
Eduardo: My Dad was in Vietnam, so he listened to The Doors, Ray Charles, Iron Butterfly, Janice Joplin, more rock stuff. Then he would do Mariachis on Sundays.
Gabriel: I love 70s music. It was so pure, so rich… so raw and delicious.
Citizen LA: Your music is at times a bit complex especially being performed by only four people. Is there room for improvisation?
Bardo: It's actually pretty methodical and thought-out. We let ourselves jam around the idea, but I don't really think we're a jam band.
Eduardo: We have to seriously rehearse the set because we have a lot of changes, a lot of dynamics. It's definitely not easy. And if we don't rehearse the set, we're gonna lose each other playing live. So there's little improvisation.
Citizen LA: So how does LA treat you?
Bardo: Our music is real and honest. I think our LA fans identify with that and understand what we're doing. We hope to empower them. And being from LA there are many Latinos fans that don't get many opportunities.
Citizen LA: For years I lived down the street from Boyle Heights, and I can tell you that East LA really needs heroes. The kids need people like you. Someone that they can look up to and say, "I wanna be like him."
Bardo: What you're saying is absolutely true. People say, "You guys are going to Coachella, right? Don't' forget about us, please. "
Citizen LA: Aww… that's so cool.
Bardo: We carry the weight of our families, especially for those family members that are old and can't make it. For all the fans that come to our shows, and buy us drinks, just cuz they believe in us. For me, all this is not mine. This is not "our" band", this belongs to everybody. This is a moment for everyone. Let's own it, man! Let's be proud of this, because this is just the beginning.
Citizen LA: Right on… wait… so who's buying you drinks? Cuz, bro, hook me up!
[laughter]
Carlos: It's all about peace and love and harmony. That's what we're trying to project as a group. If you come up to any of us, we're gonna give you a hand. Everybody's on the same playing field, no matter where you're at and no matter how high up on the ladder you THINK you are. There's nothing more real than our brothers, our community.
***
Adventures, challenges, enlightenment, and eventually praise comes to the hero, whose originality emanates from the suppression of the ego. The path has reason and reward, however the hero must contend with constant demand to "be someone", or worse yet "someone else."
After a few minutes of watching Chicano Batman perform, it became apparent that these guys are committed to their art, to their instruments. After a few minutes of hanging-out, it became apparent that these guys are rooted in a positive mindset with no contrived effort to be anyone other than themselves. Their fans should feel confident that these guys are the real deal.
And upon learning that we all had a similar LA upbringing, Bardo referred to us as "homies," a humble compliment to say the least– especially coming from a power quartet whose talents run circles around many of today's musical acts.
In my opinion, they all have a little bit of Bruce Wayne in them. [:P]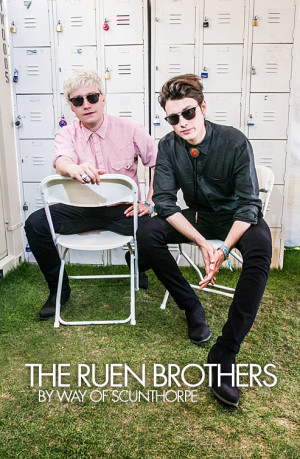 Rick Mendoza
Commonplace is the tale of the single industry monotown which gradually surrenders to low-priced imports and misguided globalization. It's an all too unfortunate reality leading to talent-drain and the dwindling of local employment. Consequently, these small towns often become mind-numbing havens for the very old or provisional sanctuaries for the very young.
For those about to enter the workforce, those looking for a progressive future, a town like Scunthorpe holds little for anyone who isn't interested in employment by the few industries which remain in the area. As it becomes increasingly difficult for this struggling community to combat the lure of big city prospects, what are its young local musicians to do?
Big dreamers from relatively obscure towns are nothing new, yet the universe always manages to produce a few surprises. Henry & Rupert Ruen, The Ruen Brothers, have diligently worked their way through the challenges of a modern music career to make their mark. Paying their dues by seizing opportunities, without being cynical, these guys have not only survived but are well on their way to living the "small-town-boy-done-good" fairytale.
At first glance, on stage, these polished gentlemen seem calm, poised and ready. Half-way through their first song it was apparent that their pretty faces complement a musical talent and rare confidence. I was immediately struck by their crooner-esque qualities akin to the likes of Orbison, Sinatra and the lot, reformulated yet completely original.
The last time I saw a young someone with these qualities was a few years ago in a small Jazz bar in Mexico City where a singer by the name of Sachal Vasandani owned the stage. I was equally impressed by both Henry and Rupert's presence. Both Rick and I watched the duo, pleasantly surprised and subsequently charmed by Heney & Rupert who lit up the stage. At one point, I lay back in the soft grass, closed my eyes, and floated on peacefully enjoying their rendition of "Pretty Woman."
AND mind you, The Ruen Brothers performed early Friday morning, wherein I was barely alive after a debaucherous Thursday late-night kick-off deluge in the Coachella Campgrounds. If it hadn't been for this important interview you can bet that I would have waltzed into the polo fields at 3pm after a tasty morning breakfast burrito and leisurely walk through the hoards of hot sexy bodies.
After their set, buzzing around the Press Tent, these two spiffy lads graciously smile holding it together in this torturous heat with the pounding of the Sahara Tent in the background. They were also tolerant of the opportunist journalists who pounced on them for non-cleared interviews. How anyone can keep cool in these conditions is a miracle.
Citizen LA: I've been watching you guys working the press tent, seems like you're in high demand here at Coachella.
Rupert: Everybody has been super cool. We're very fortunate that people came to see us and interview us.
Citizen LA: As for me, I was the first one in the concert grounds this morning, so I could get to the freaking stage to shoot you guys. I didn't eat. I didn't take a shower. I thought to myself, well, they came all the way from England, so I'll drag myself up after a hard night of drinking.
[laughter]
Henry: Thanks that means a lot. That's a lot of love.
Citizen LA: You guys are from a little town in England. What do people do there?
Rupert: We're from Scunthorpe, it's an old iron & steel town.
Henry: At one time these works were the biggest in Europe. But now, there are rumors of them closing. On top of that, the shops are liquidating and going out-of-business. And there's no university there, so jobs are limited. It's all very sad. Everyone that wants to do something moves out of town. But we have a lot to thank it for because Scunthorpe gave us the opportunity to play in loads of pubs, clubs and parties, AND get paid for it.
Citizen LA: Oh! You guys are actually getting paid to do this?
[laughter]
Citizen LA: That's even better!
Henry: When we were younger, places would pay us like $300 bucks to perform. They probably thought, "let's give these kids a shot, they're probably not very good…"
Rupert: And they've never had a proper job…
Citizen LA: Yeah, I completely understand you guys. We've all done a little table dancing in our time.
Henry: Absolutely.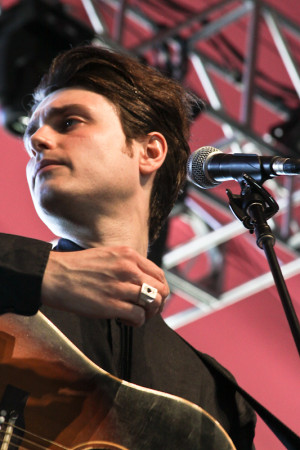 GCStiehl
Citizen LA: You guys seem to be making the right decisions. I also noticed a positive energy. From where does all this come?
Henry: Some of it comes from growing up listening to our Dad's record collection. But mainly we've never been afraid to take a chance. Whatever you don't do in your life you're going to regret went you get older.
Citizen LA: So behind you there are good people.
Henry: Many kids don't get their parents support and discourage them from playing music. We had super-encouraging parents.
Rupert: We've also had training, a lot of gigs. It was a tough business, but we made the right decisions, yes. And… well… we didn't have "plan B."
Citizen LA: But it could have gone the wrong way. You know all the sad stories.
Rupert: Could have, very easily.
Henry: When you're from Scunthorpe, and you live in this little town, you don't know anything really. Now we've experienced all these things, and we appreciate what came before. If we had stayed in Scunthorpe, and continued doing gigs every weekend, or weddings, or whatever, it wouldn't have bothered us THAT much because you don't miss what you never had. Sure we may have hoped to have done whatever, but we would still be playing music.
Citizen LA: With those intentions that you are sending out, you are manifesting this. You are making this happen, and it's very commendable.
H&R: Thank you!
Citizen LA: Both of you do a good job of sharing the spotlight, so when do you guys just get drunk and fight?
Rupert: All the time. Hahaha…
Henry: Behind the scenes, when no one else is really around–
Rupert: It's usually creative differences–
Henry: It's not even that. It's stupid things like, you let the fucking toothpaste out the side, Rupert. What's your problem?
Rupert: I don't find that annoying… and my toothbrush is always clean, by the way.
[laughter]
Citizen LA: So there no smashing a bottle on a table, and lunging at your brother?
Rupert: Well it's not quite as aggressive as that, most of the time.
Henry: Apparently, if you smash a bottle on the table it will shatter completely. And it wouldn't give you the jagged edge, unfortunately.
Rupert: But if they smash the bottle ON you, now that's bad.
Henry: If you want to see a true bottling, go to a bar in Scunthorpe on a Friday evening.
Rupert: [laughs]
Citizen LA: Describe your magical collaboration process.
Rupert: We like the same stuff, so were often inspired by the same things. So, for example, if we watch a highly emotive film together, we'll both want to write afterwards. And the sparks fly.
Henry: We often get inspired by watching a lot of movies, old films, among other things.
Citizen LA: So the magic is… you two sitting in front of the television with the remote.
Henry: [laughing] But it's never forced. We write a song when it feels right; it kinda just comes in the moment.
Citizen LA: So when does it get tough?
Henry: It gets tough when people around us say, "why don't you guys try writing a song with whoever or whatever." I mean, I get why they say it, but…
Rupert: Doing that is often a forced situation, so we'd insist on hanging out with those new people for a few days before picking up an instrument together.
Henry: The majority of the album is just Rupert and I, but some of the songs have been co-written with some lovely people like Brendon Benson from the Raconteurs. We went to Nashville and like hung for like a while, got to know each other, then so slowly we went in. But we generally don't like to do it–
Rupert: Well, I suppose we co-write all the time seeing that we're brothers.
Henry: [laughs]
Citizen LA: And, you know, Xbox has only TWO controls. So to bring in a third person, it's like, "dude we gotta get another control, this sucks…"
Henry: And you gotta split the screen, all tiny and stuff…
Rupert: Yeah, no thanks, it'll be easier if we stick with two remotes.
GCStiehl
Citizen LA: So how do two handsome guys keep their egos in check?
Rupert: We don't.
[laughter]
Henry: Naw… we never expect things. If someone wants to interview us, like this, we really appreciate it. Our parents brought us up to be very respectful. I really don't get that ego thing–
Rupert: For the record, Henry's got a bigger ego than I do.
Henry: Do not! Well, maybe.
Citizen LA: Are you giving the fans what they want?
Henry: The whole point is that you want to connect with people! It's why we struggled for so long with no money. Every day I wake up and it's like, "you have to go there and there and do that and that" and I'm like fucking hell, yes, I get to do that?
Citizen LA: And that circles back to why things are happening for you.
Rupert: Yeah, it's great.
Citizen LA: Watching you perform, it was very apparent that you're super-polished. Not only look-wise but everything seemed really tight, like suspiciously polished. My first thought was, "are these guys the product of a producer?"
Rupert: At the beginning, we didn't have money for a studio so we learned how to use our equipment and recorded all our music, but it worked out because we got out exactly what we wanted. After trying different producers, we met Rick Ruben we felt very comfortable. He tightened us up, got the vibe right, and got us to appreciate what needed to be prominent within the music. So we basically took what we could do on acoustic guitars from before, and built up around that.
Henry: Nothings contrived. We don't use track. The record was made organically, with just people playing. We're bare up there on stage and Rick isn't in the back helping us out. We spent months rehearsing because we wanted to do the record justice.
Rupert: And it's a different live band than what is on the record. So we naturally had to get players who understood our music, and the music we recorded, and we found some great guys.
Citizen LA: It's nice to see that you guys are so young and owning the stage.
Henry: A lot of people say, well you got to be loose and all that, but you can only be good loose if you get tighter.
Rupert: It's the pub gigs, the thousand gigs in our time. What we do up there is take all of that and make it work.
Citizen LA: You've captured the spirit of the Stones, Orbison, Sinatra and others; definitely a couple of velvety, budding crooners.
Rupert: Love it.
Citizen LA: So what's the universal message?
Rupert: We like to work our songs on different levels emotionally, with a strong dynamic, even between the verses and choruses. We we're definitely influenced by those old-school Cohen Brothers, Tarantino, Lynch movies and, of course, all kinds of musicians. I'm confident there's something in our music for everyone.
**
As the boys walked off with Ricky Rocket for the photo, I couldn't help but picture a version of these guys 50 years ago running from a swarm of hormone-crazy lovesick teen fans. I wonder if that's waiting for them just around the bend. Posing comfortably, their blasé demeanor could have easily cast them in a much older light. Then an alarming thought hit me, they referred to the Cohen Brothers, Tarantino, and Lynch as "old-school". I immediately pulled out my pocket mirror, checked for wrinkles and reached for the Vodka.
Work it while you got it, boys 😉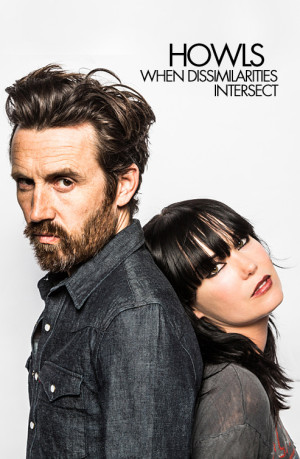 Rick Mendoza
Something about the musical duo known as Howls reminds me of the sleeper masterpiece Once. In the movie, two people, who were moving through life in very different directions with seemingly a zero chance of ever meeting, unexpectedly become entangled. It's a poignant example of how two universes collide to create a moment of magic.
Just as two sides of a coin, Christian Stone and Annalee Fery perfectly complement each other musically and, surprisingly, personally. Not only does their first album denote this cohesion, but the new material continues to solidify their song-writing abilities and vocal talents.
From the moment you listen to any of their songs, there's an effortlessness that comes across in melody and harmony making Howls a stimulating listen. The team carefully weaves instruments together managing to capture the "classic 80's" without sounding contrived. Add thoughtful lyrics to the mix, and we have full-bodied tracks with a polished subtle touch.
Their experience together in previous bands allowed an opportunity to perform, but always as part of a group. Now the complexities of a larger band dynamic have given way to the challenges and intricacies of a duo.
It quickly becomes apparent that both have surfaced from different mindsets and dispositions. Yet, both Christian and Annalee are skillfully using their dissimilarities to successfully navigate the musical landscape and produce great songs.
Citizen LA: Many times, the obvious, is often not so obvious, and life gives us lessons until we understand. Then, there's the idea of the soul-mate who either we find, or we don't. Yet, sometimes this soul-mate may come in-and-out of our lives. Knowing that you two have been crossing paths over the years, are both of you making the best of "this time around?"
Christian Stone: This touches on a lot of things I believe in. Much of the music, before this band, I wrote by myself. Now it's about being inclusive and flexible. This is a huge lesson in collaboration and it's a beautiful experience. Otherwise what are you doing making music by yourself? You're just masturbating, really. Ya know?
Annalee Fery: OMG…
Christian: Ok… bad analogy [laughs].
Annalee: Yeah, that's a whole different story.
Citizen LA: You know, we could go there. Hmm… I think I'll start the interview with that!
Christian: Better not, better leave it alone.
[Laughter]
Citizen LA: Not only do your melodies and harmonies have a depth that expresses commitment, but I hear a sweetness between you two, like a buddy love.
Christian: Well, we fight like cats and dogs, so I don't know why…
Annalee: [laughs]
Christian: Naw, there really is a lot of love between Anna and I, like a brother sister type relationship.
Citizen LA: Is music a vehicle for your expression? Or is music the reason you express yourself?
Annalee: It's a little bit of both for me. Music is an outlet. If I didn't have music to escape, I would definitely go insane. But I love all art. I'm into that whole world of people doing what they like.
Christian: There's an attraction to the first Rock & Roll idols who picked up the guitar, or whatever instrument, and did it "their way." This is an art form that has very little rules, and welcomes that kind of raw attitude. The struggle is to stay innocent and naive.
Citizen LA: Did either of you two study music?
Christian: We're band nerds from high school I was in the drum line. Annalee was a flautist.
Annalee: I was taught by Nuns.
Citizen LA: Did they beat you with rulers?
Annalee: My first grade teacher did hit us, and pulled our ears.
Citizen LA: Well I'm sure it was your fault. Guilt. Guilt. Guilt.
Annalee: This is where the whole masturbation thing fits in.
Christian: I still pull on Anna's ears every once in a while, when she gets out of line.
Annalee: [laughs]
Citizen LA: Art is self-therapeutic. But at its extreme, it can become an egocentric way of dealing with things. How has sharing music changed your life?
Christian: "Sharing music" was never a driving force behind why I played. And then about eight years ago, I had an incredible experience. Without the people who have come before me, making the music that I cared so much about, I may have not had something to live for. Now I get it.
Citizen LA: Sharing might not always be the impetus for musicians, but their music does affect a lot of people. And if it wasn't for the audience, there wouldn't be an industry. So music really is a service.
Annalee: If you keep it inside, then you risk nothing. But if you share it with somebody, it frees you up. It makes me feel more like a real person.
Citizen LA: The 80's were a decade of excess and fashion extremes, pushing the limits of classic aesthetics in terms of music and fashion. How did this influence you?
Christian: Much of the music that Howls is leaning towards, now, is part of the 80's music that I've re-discovered and have a new appreciation for.
Citizen LA: There are many bands that have this 80's rehash sound right now. Some are trying too hard. But, to me, your music doesn't sound contrived.
Christian: Thanks. Well we can't take all the credit for that. We've consciously shifted directions recently. Jon Siebels, our producer on the "White Noise" track, is equally responsible.
Citizen LA: The new song does sound a little different, in terms of its application. But it's more of a progression, instead of a tangent. It sounds natural.
Christian: There are signs of this new direction on our first record. Many of the sounds on that record were by accident, or us trying to sound a certain way, on whatever instrument we were messing with.
Citizen LA: If you wouldn't have told me that, I would have thought that even from the first album, you guys knew exactly where you were going. So I'm gonna stick with that.
Annalee: Shut up Christian. Don't tell anybody!
Citizen LA: So this break from previous methods of production that you mention in your Bio, is this a reaction to what's going on in the industry? Or this purely a gut-feeling?
Christian: I have to give credit to Anna who recognized that there was something that needed to be addressed. I wasn't there the first day when Anna and John got together. But all of a sudden the natural drums were gone, and the song made sense.
Annalee: John is a really good friend of ours, but there was a feeling of vulnerability. We both felt like, OMG we're gonna let someone else try to do something instead of us.
Citizen LA: So that's happens when you take a break from masturbating?
Annalee: [laughs]
Christian: Yeah, you get something done!
Citizen LA: What I find interesting is that though the themes on your first album have somber moments, it's not overly-melancholic.
Christian: I'm shocked to hear that. I'm probably one of the most sad and depressed people you'll ever meet.
Citizen LA: [laughs] Now, in your new song "White Noise", I hear Berlin's "Metro", which also touches on sad themes, but again stylistically never wallowed in misery.
Annalee: The way we wrote the melodies, they do have this flow where you're not sitting in anything for too long. It's not like "ok, now, I'm gonna take a hot bath and cry."
Christian: All I know is that you compared us to Berlin, and that's good enough for me.
Annalee: I'll be able to sleep tonight.
Citizen LA: What do you guys think about the LA scene right now?
Christian: I don't really know. And, really, don't think I… care.
Citizen LA: I love that.
Christian: The modernization of the process of making music has eliminated a certain aspect of the way we look at "community." People don't run into the arms of their local record store and neighborhood show like they used to. I don't know if it's ever gonna be like that again.
Citizen LA: I'm hearing this "California" sound. Seems that a lot of musicians, whether aware of it or not, are weaving this type of proto-hippie thing into their music.
Annalee: California isn't really a place; it's more like the weather. If you've been here long enough, the sun is a factor in how you write music.
Christian: I have seen a trend, like Beach Boy harmonies, or this family vibe like Edward Sharpe and the Magnetic Zeros, that kind of proto-hippie new-agey thing. I totally see that… and you know what? I think it's bullshit.
Citizen LA: [laughs]
Christian: I don't wanna hear people being happy in music; I wanna hear depression and sadness, because it makes me feel more connected… but that's just me.
Annalee: Just so you know, that was one of the BEST things that Christian has ever said about his life.
Christian: [laughs]
Annalee: I have a new respect for him.
Christian: When I listen to music where someone's having a cathartic artistic expression of some emotional thing they've been through, I feel happy afterwards. Even if they story in the song is a sad story, it brings me happiness because there's a healing process to music. Wallowing in pain is not beautiful, but if you can use that that pain and turn it into art, then listening to that, it brings me happiness.
Citizen LA: Any last words?
Annalee: I was thinking about where bands come from… and I feel like, nobody is from where they are living. When you have different people with different experiences come together, like when the "happy person" and the "depressed person" come together, that's what makes great music.
Christian: Our challenge is to stay as depressed as possible.
[Laughter]