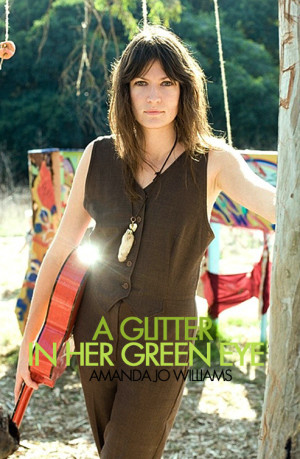 In fact, Amanda Jo Williams' eyes are hazel and change to colors including green, gray and gold. On this late November day her crackling voice and sparkling green eyes lead our parade-of-sorts through the sun drenched grass in Elysian Park, her baby blond son running swoops around us and rattling a maraca.
On a mission to spread fire and music, Amanda's driven and infectious songs and honest way have entranced both communities of experimental folk musicians and audiences across Los Angeles. The hook is her vocal style, a cross of country cadence, melodic speaking and baby talk/mom talk that is instantly memorable.
Amanda Jo Williams: I just sing the way I speak. I feel blessed to not have an ordinary beautiful angel voice though I'm sure that style feels really good when the noise is coming out. Also, my daddy's side of the family has a unique speaking voice, men and women. Kinda shrill and high pitched, witchy.
Marianne Williams: When did you start playing music?
Amanda: I started a band called Horse Play when I was about eight. My first song went, "I work so hard each day…" I don't know why I came up with those lyrics, they still don't apply to me. I learned to play open chords on guitar when I was 20, taught to me by Paul McMahon, an amazing artist and father of my twins. I start strumming a chord and the melodies just come from somewhere, as well as lyrics. I don't try very hard at songwriting.
Marianne: What about the somewhere that melodies and songs come from? I have had a similar experience but I'm not sure if we're talking about the same thing.
Amanda: Well, instead of the words and melodies being personal, there are those songs from the universe or whatever you call it that we all share. Then there are songs and melodies that come from my unconscious. I feel I'm given songs sometimes from a higher power as gifts. That's why it's so important to remain humble. No one really creates alone.
Marianne: So some songs are from the emotional/personal subconcious, while others are from a universal source?
Amanda: Some songs are from universe or the non-local intelligence and some are from our own personal pain or joy. As humans, we all share both those places, and even beyond as we're all connected. Whatever a song is about, it vibrates along on its road. Some are heavy, some are light. Whatever mood we're in, we'll choose to listen to something that's vibrating on the road we're traveling at in that moment. The power of sound is amazing. Everything is amazing really (coyote yelp).
Marianne: I know you are from Georgia but I don't know the whole story. Can you please tell me some bio?
Amanda: Well, I left Georgia when I was 19 to become a model in NYC. It didn't go well at first so one night I took a bus to Woodstock, NY with friends, got pregnant with my twins soon after, and learned guitar and how to express myself through music. I found out what I wanted to do and what I should do. I modeled again for a while and did pretty well. In 2005 I got married to another singer songwriter Matthew O'Neill and we had a son Jack, and just last year moved to LA.
Marianne: How do kids and music intertwine for you?
Amanda: I have only ever played guitar and wrote songs whilst pregnant or raising kids. I wrote a whole book, Grace Light Warrior, pregnant with Jack. I play my daughter's guitar now too. I discovered it goes well with my voice so I traded her my telecoustic for it. It's just a small kid's guitar, 50 bucks with nylon strings. Also, in a lot of recordings there are background sounds from Jack and the twins. Being a musician mother you have to accept those extra weird noises, and they turn out so cool most of the time. Haunting like, genius weird.
Marianne: I love seeing you play live. When was your favorite show?
Amanda: This past Manimal Fest in the desert. I played with a band that included 5-Track on guitar, Crooked Cowboy on bass, and Feather on percussion. We just let loose and had a great time. Not only are they excellent musicians but they play some weird stuff, experimental. Crooked Cowboy's bass tone is orgasmic to me, perfect. Feather is great. Youthful energy and gets the songs.
Marianne: What are your tour and release plans for 2010?
Amanda: I may be touring up the west coast in March with Crooked Cowboy and his band. I plan on releasing an album this year too. I think I've been saying that for the past 3 years but I want it right and nice. I'd like to play more house parties for their coziness and intimacy.
Marianne: Any chance Jack and the twins will join the band and tour?
Amanda: I would love to play music with my kids. Ginger and Hominy are 8 and very musical. Jack is 2 and 3/4 and pretty good on drums. I can imagine it… the people I love more than anything doing what we all love and doing it together. We'll see what they want to do as they grow.
Marianne: We are both Williams. Is it possible we are related or is it just a common name?
Amanda: We could be related. I like you. It's a common name too. I've noticed Williams share similar traits. They tend to be bad ass, cool, a little mean spirited but sweet, sharp too. Also natural. See if it isn't so. Of course, there are exceptions.
Visit Amanda@ myspace.com/amandajowilliamsmusic