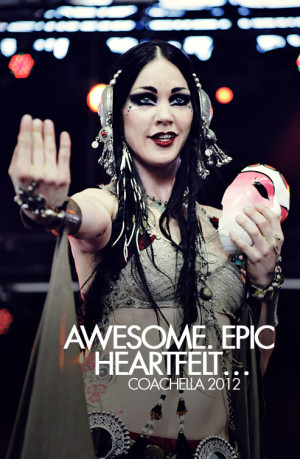 One must be mentally prepared to brave the heat and the fatigue that come along with a 3 day festival in the blazing hot SoCal desert.  And yet, despite the extreme weather conditions, Coachella has become one of the biggest music festivals in the world and each year it seems to grow more than the year before.  
This year, for the first time since its 1999 inception, Goldenvoice announced Coachella 2012 would be split into two back-to-back weekends, each with identical line ups boasting some of today's biggest stars.
It was only a few days before the festival when the final confirmation came from Citizen LA that I'd be shooting Coachella 2012 "Week 2" for them.  A shot list appeared in my inbox from the editor that included: chicks, booze and head-banging.  I could do that.  So, I packed up my camera, and my tent, for a weekend of camping and music madness. Thursday evening the pedal hit the metal; it was LA to Coachella nonstop!
As I neared my destination, the moving skylights could be seen on the horizon scanning the heavens.  In the distance the Coachella polo fields beckoned me.  The Beast that is Coachella was alive and had taken its first breath.
The Arrival
It was the night before the festival as I arrived at the beautiful Lake Cahuilla campground.  RV's dotted the campground resembling mini-music clubs filled with colored lights and anxious Coachella revelers.  I hung out by the tranquil water all night… it was an eerie calm.  Paradise was just a pond away.
The following morning, at 7am, I awoke to the blazing desert sun beating down on my tent.  However, this was war and I was prepared to battle.  So I jammed myself into a dusty rental minivan packed 10 deep and enjoyed the company of my fellow sardines.  
As we walked up towards the Main Entrance we passed the Official Coachella campsites for those who purchased their tickets with camping passes.  The campground was like a mini-city with a general store, farmers market and real street-signs so you could easily find your tent.  As far as "campsites" go the communal vibe was wonderful, at night you could find people dancing with their headphones to a silent rave, or wearing neon glow sticks so they could play dodge-ball in the dark.
…AND it was safe.  Security was tight.  No storming the gates like in 2009.   Saweet!
It's no surprise that at 105 degrees in the desert, I ran into a lot of scantily-clad festival-goers praying for rain.  They were answered at the Do Lab tent, a refreshingly delightfully decadent music oasis.  Water guns soaked the dehydrated crowd as the DJ quenched everyone with a healthy dose of liquid bass.
So, where to find a beer?  Our old friend Heineken was present at Coachella and made abundantly sure that they were seen.  Entire sets could be watched from inside the beer-gardens which were strategically located throughout the polo fields.  The VIP tents had beer-bongs and brew-IVs.  If you couldn't find a beer, then something was very wrong with you.
Music?  The rumors flew about HoloPac and other surprises that hit the stages a week before.  Coachella's access to the best-of-the-best defines and cements its place in history as an insanely desirable music destination.
Inside, finally… and ready to rock.
Coachella | 3533
Friday
My first stop… Hello Seahorse! performing on the Coachella Main Stage. Hailing from Mexico, the band's smooth Latin grooves and soaring Spanish vocals made for an excellent start to the day. The female lead singer Denise Gutiérrez had great energy and was super-entertaining to watch.  The band was nominated for best alternative song "Bestia" at the Latin Grammy Awards, and won the La Zona award at the MTV Video Music Awards Latinoamérica. Excellent choice, Coachella.
At the Gobi tent, the longhaired lead singer, Jesse Tabish, showed off his musical chops on the keys, proving to be a very impressive musician and performer.  His band, Other Lives, was chosen to tour with Bon Iver last year and is currently opening for Radiohead. Their single "Black Tables" was featured on the TV show Ugly Betty, Grey's Anatomy, and One Tree Hill.
By far, my favorite show of the day was the talented Texas guitarist, Gary Clark Jr.  The sound literally gives you chills; a modern day Jimi Hendrix / Stevie Ray Vaughn mash-up with a smooth Lenny Kravitz voice.  Clark has performed with an array of musical icons, including Jimmie Vaughan who has played a big part in Clark's current path to success.  Clark is one of the many black rock musicians who are reinventing the quintessential blues sound while remaining independent of the "scene."
I caught a sweet set from Girls.  The lead singer, Christopher Owens, looked a bit like Kurt Cobain but sang more like Buddy Holly.  Owens was wearing a t-shirt with a printed photo of San Francisco Giants' pitcher Tim "The Freak" Lincecum who is known for his unorthodox style… interesting choice for Owens.  The singles "Vomit" and "Honey Bunny", from the band's second album, received "Best New Music" from Pitchfork Media. Their newest album, Father, Son, Holy Ghost has also received much acclaim and has landed them at Coachella for 2012.
The Black Keys are one of those bands that come along and shake up the music industry with a fresh new sound.  They are a quintessential blues/rock band and they that have a simple raw energy that is both distinctive and powerful.  Dan Auerbach can take command of the stage and play guitar that makes a difficult thing look easy.  Their raw, rock sound is unique and refreshingly distinguishable from most other bands in the vast sea of the music industry.
At the M83 show, I was greeted by a creepy long-nosed alien who charmed the crowd in black comedy sort of way.  The combination of atmospheric music with their melodic sensibility and a sensory-overload of lights & smoke made for an explosive live performance.  A dreamscape double-album Hurry Up, We're Dreaming was released in 2011; ripe with melancholy and nostalgia. Anthony Gonzalez, and the rest of his band, did an excellent job of recreating their studio sound on stage.  
The Swedish punk band, Refused were headlining the outdoor theatre.  Their legendary status in the punk rock world has much to do with their musicianship and stage presence.  Refused are slick, raw, hardcore and classic.  Their first American reunion show in almost fifteen years was filled with intense music, a dramatic stage show and, of course, mosh-pits.  Their final album The Shape of Punk to Come was listed by Kerrang! Magazine as one of the 50 Most Influential Albums of All Time.
Amon Tobin's midnight show at the Mojave tent brought a huge cult following.  Video images of outer space and the cosmos were projected on giant cubes, resembling rocks.  Some of his songs were glitchy with climatic spurts, while others resembled epic cinematic action-movie soundscapes.  Tobin briefly let us inside the mind of an amazing sound designer/composer and then released us back into our own realities to contemplate what we just experienced.
Saturday
Saturday started off with a refreshing swim in the huge pool at our campsite… then it was back to the festival for more musical mayhem.  (Walking into the polo grounds surrounded by big blue skies and glorious mountains never gets old.) 
On the main stage, the electronic rock band, Awolnation.  It was an energetic show and screamingly loud performance by lead singer, Aaron Bruno, who at one point pulled out a surfboard and crowd-surfed the masses. The band's first single, "Sail", released on Red Bull Records, has been featured on the television show The Good Wife, House and various commercials.
At the Sahara tent Zeds Dead performed high up on a walled platform above a massive stage overlooking the dance crowd.  The visuals were just as intense as the bass blasting from the huge speakers.  The boys from Zeds Dead (DC and Hooks) have made it to #1 on Beatport's breakbeat chart and have recently released "The Living Dead Tour" with roughly 70 dates in 80 days.
Flying Lotus performed at the Gobi stage, which was a great choice as the smaller tents lend an intimacy to the sprawling event.  Amazing and charismatic, this DJ is all-smiles.  The electronic and experimental beats are smooth avant-garde modern-day jazz.   At one point Thundercat came on stage, the amazing bass player with whom he has recently collaborated.  Seeing these two guys on stage together at the top of their game was impressive.
Radiohead is undoubtedly one of the most influential bands of our generation. The stage design was both overwhelming and impressive.  Movable floating screens, high above the stage, displayed giant close up images of the band throughout the show.  Thom Yorke's eyes lit up the big screen during this performance; such an incredible performer that it was hard to take my focus off of him during the 2 hour set.  Radiohead played both old and new songs and covered all the favorites. 
Sunday
Camping in the scorching sun with minimal clothes, and little food, takes its toll on you.  By the time Sunday rolled around I may have felt like a dirty desert dweller, but this photog was mentally prepared for another round. 
Beats Antique's dancer, Zoe, graced the Mojave stage as a unique sound blending electronic, classical and gypsy filled the air.  Their debut album "Tribal Derivations" was a concept album created to complement Zoe's dance styles.  Ever since then the group has been weaving in-and-out of World Music on their sonic journey towards Nirvana.
The Weeknd was one of those buzz bands at the festival this year.  It was insane how many girls were crying and passing out in the crowd.  Seriously, it was like they were watching Michael Jackson in his prime, except they have much more of a modern, electronic and hip-hop vibe.  Their music incorporates punk and alternative-rock samples, which expands on the sound and sensibility of R&B.
The electronic duo, Justice, hooked me back in 2007 with their hit song "Dance", which was nominated for "Video of the Year" at the 2007 MTV Video Music Awards.  Their signature cross lit up on stage, while their dance infused disco-French-fusion rocked the house.
Listening to Girl Talk is like taking the top 40 radio hits and then having a DJ scramble it up in funky, multi-layered electronic omelet and serving it up on an all-you-can-eat party platter.  Seriously, there was a huge party on stage with over 30 dancers and friends crowded around his turntables.  Huge toilet paper guns that were shooting rolls of tissue out into the sweat soaked crowd; definitely the most fun show of the festival.
At The Drive In.  I remember these guys playing in my hometown at Lions Park when I was a kid in high school.   Their album "Relationship of Command" is seen as one of the most influential rock albums of all time.  Following the break-up of At the Drive-In, Bixler-Zavala and Rodriguez-Lopez started The Mars Volta.  This reunion show was a sophisticated and well-polished version of what I remember as a small town Texas teen.
Dre and SnoopDogg are two hip-hop icons at the top of their game and delivered one of the biggest and most groundbreaking performances in the history of Coachella.  Not only did they have special guests Wiz Khalifa, Kendrick Lamar, 50 Cent, Eminem… but, those who made it out to Coachella 2012 will forever remember the night that the 3D ghost of 2-Pac returned to the stage for an encore to end all encores.
Final Note
Awesome. Epic. Heartfelt.  
Once again, thank you Coachella.