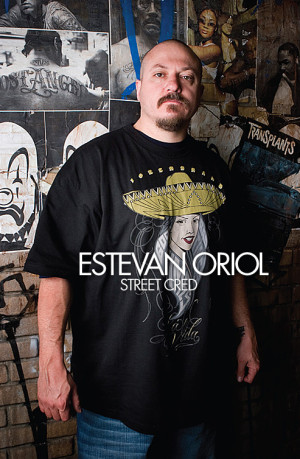 If you find yourself occasionally down on 6th St. unloading some rounds at the LA indoor shooting range during a lunch break, then you've probably walked by an unassuming studio, dismissing it for another industrial concrete storage room. Inside, however, you'd likely encounter a team of low-rider junkies customizing an Impala in the garage downstairs or tattoo superstar Mr. Cartoon writing ink in the parlor upstairs. Or maybe you would interrupt a photographer and his team working on an unreasonable amount of magazine, book, film, or video game projects upstairs. Most likely, though, all of these projects would be taking place on any given day. Behind all of this activity is an LA native, Estevan Oriol, who has effortlessly smudged boundaries of commercial portraiture and documentary realism, street and celebrity culture, businessman and fine artist, old school Angeleno and new school multi-tasker.
Insider Art
Oriol has crafted a style out of his intimate access to his subjects. He rarely shows the viewer a culture, place, or person that is foreign to him. Instead, he is refracting imagery from the world of his subjects, which he knows well. His firsthand perspective renders him less of a voyeur and more of an inside correspondent.
Originally a Westsider, Oriol grew up surrounded by trouble and less than favorable economic situations, forcing him to avoid trouble and graduate from high school in San Diego. By day, working several dead end construction jobs out of high school, and by night, Oriol began working at several hip-hop clubs in LA, gradually befriending Cypress Hill and other crews as the early 90s West Coast hip-hop scene blossomed. Soon after, he was asked to tour manage the newly-formed House of Pain. Oriol would return to the States with hundreds of backstage passes, passport covered in stamps, and it was his father, absent for much of his childhood and a modest fashion photographer, who urged him to document his experiences. Oriol soon realized that he had been exposed to so many exotic places that most LA Chicanos with no college degree have not had the luxury of exploring first-hand.
Oriol began photographing years before DIY described every other artist's background, and according to all of his friends, he was a natural. Photos of life on tour quickly led to label-commissioned press photographs. All of a sudden, Oriol began directing music videos (he's helmed about 35 by now) and, simultaneously, his career photographing for magazines exploded, landing him in what seems like every cool young publication ever. Why not? It all makes sense. Oriol inhales and exhales low-riders, hip-hop, street fashion, gritty downtown life, club culture, tour life, and pure LA. Why hasn't anyone else photographed the Boo Ya Tribe?
Judging by his cover, Oriol is intimidating, a tall, thick frame, definitely a physical presence in any room. However, while his appearance earns cred, his demeanor has always been textbook laid back, his voice confident and disarming. This cool confidence has translated into a trademark of his portraiture.
Ask First, Shoot Later [but always be shooting]
In February, Oriol celebrated the release of his second book, '1979,' a meditation on street ball life, in downtown with 1,000 of his closest friends and fans, his popularity and influence never more evident. The project began instinctually, without any targeted product as the end point, instead, just a passion project. To balance out all of his commercial photography, Oriol is always taking 'personal' photos when he is inspired. In this case, he found himself impelled to capture people of all ages that love pick up basketball. Themes started to emerge. Narratives began to surface. Through his lens, the stakes were larger than any throwaway game for bragging rights, but Oriol's perspective is subtler than the tried-and-true athletes-as-gladiators cliché.
Oriol's typical approach to photographing everyday people has always been to ask for permission first and then to take photos second. Despite the fact that the subject may turn self-aware, the insult of acting as an intrusive photographer is the opposite of his style. Oriol views photographing without permission as a tacky blend of paparazzism and tourism.
The only time he ever shoots without asking is when the decisive moment is happening immediately. For example, he caught a neighborhood homeless man with no legs trying to cross the street without his wheelchair late at night. Fearing for his safety, nearby policemen tried to escort him across, yet he yelled at officer to leave him alone. All of this was taking place as the threat of an eighteen wheeler coming off the freeway loomed, in the middle of the night, in that exact moment. Across the street, Oriol had no time to ask for permission.
Clearly, much of his personal projects focus on more marginalized populations, more corners of everyday local life. While in New Orleans filming a C-Murda music video in 2006, Oriol was stirred by dilapidated neighborhoods, and, as is his custom, he spends his last day in a new environment photographing whatever he wants to photograph.
It is unclear what formats his personal projects will eventually assume, but the steady flow of clear cut commercial work allows him the financial luxury of not needing to hurry these decisions. Oriol explains, "It's great, because you don't have to force anything." He gradually develops these projects until they are ready to go to print or display.
More Famous, Less Time
As he has now been photographing seriously for almost twenty years, Oriol's stature and fame have grown and so have the pedigree of his subjects. However, Oriol has found as the size of the star increases, the pay and time to work are indirectly proportional. Most recently, Oriol recalls waiting two days on set to snap a few portraits of Robert De Niro and Al Pacino, two colossal actors in mainstream culture but also iconic gods in hip-hop and street culture.
Finally receiving his opportunity to get the two alone for five minutes, Oriol had the misfortune of having two of his cameras jam. Luckily, his old trusty Pentax was working, and he had a roll of film for each actor, under less than ideal circumstances. "My camera is loud, it's like a cannon…or gun, a hammer's cocking…a real bassy sound," muses Oriol. He laughs as De Niro "started mimicking the sound of the camera…CLACK." And suddenly, "he starts making noises…while I'm trying to take pictures of him…its low light…you can't have that much movement." The experience was like trying to capture an unpredictable creature. Next thing he knew it was over. He had his limited window to capture these over-photographed actors in an innovative or different way, and the job was a volunteer one at that. So while it seems as if things could never be better for him, these hidden challenges never seem to cease.
Downtown and the Future
Although he was born in Santa Monica, Oriol has spent his life downtown: living there at different stages, working in clubs and at his studios, showing in Chinatown and elsewhere, and photographing the denizens. For now, Oriol lives in San Gabriel with his wife and four children, but he has spent many years living and/or working downtown. He and Mr. Cartoon originally moved to Santa Fe and 7th over ten years ago "because [they] didn't want to be in a stuffy apartment in Hollywood…we wanted something a little grimier," basically a place to work and play that is less than perfect. While trying to fend off the disadvantages of his block's gentrification like the demolition of some of the cities few older buildings, he plans to stay downtown for a while.
Although the area around his studio is being bought up, demolished, and in general gentrified, Oriol mourns the loss of history versus complaining about the block becoming whitewashed. However, Downtown will always seem to maintain an heir of seediness and lawlessness. Coming back from a late dinner, Oriol caught two vagrants in an act of fellatio right outside his studio doors. They demanded money; he asked to take their picture. They complied. The resulting photograph is hidden somewhere in Oriol's office, a visual reminder that it's hard to imagine downtown completely getting cleaned up despite all this money.
Moving forward, after a couple month long hiccup of the WGA strike, his film projects such as "Ink" (a collaboration with Cartoon) have now fortunately resumed development. In addition to releasing his second book, he has also shown glossy portraits at the ArcLight, an addition to his long list of over thirty different exhibitions of photography in various parts of the world in different showcasing environments. A few more local exhibitions are gestating as well, but nothing concrete is planned of yet. Since he built the more personal side of his career on waiting for opportunities to emerge out of his real life connection to a subject, now would be an uncharacteristic time for Estevan Oriol to rush into making a wrong move.