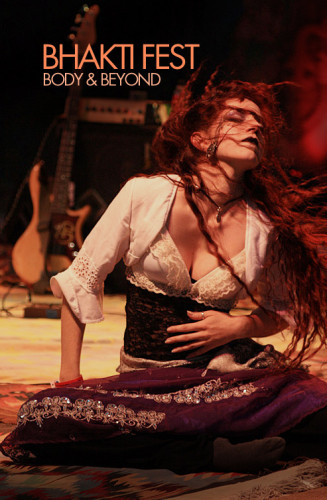 As the US's premier yoga, sacred music and personal growth festival, BhaktiFest brings together some the world's top yoga teachers and Kirtan artists for four days of bliss. For the spiritual seeker, Bhaktifest is an unprecedented collection of transcendental riches.
The seeds of Bhaktifest were sewn at Woodstock in 1969, where Sri Swami Satchidananda was prompted by Sridhar Steven Silberfein to lead the crowd in sacred chant. Four decades later, devoted fans of all ages gather at in Joshua Tree, California to immerse themselves in six days of yoga, sacred music and meditation.
Bhaktifest follows in the footsteps of the great spiritual festivals of India that date back thousands of years. Though this festival is a commercial venture, Bhaktifest loses none of its spiritual significance. It's an opportunity for likeminded people to get together and celebrate freedom through spirituality; a calling to raise consciousness for the benefit of all on the planet.
At an event featuring over 25 Kirtan acts including Krishna Das and Jai Uttal, it's truly a 'who's who' roster of devotional chant.
Dawn Cartwright
One of the most respected Tantra teachers alive today, and a lifelong student of a number of Tantric lineages, Dawn opens the gate for seekers looking to learn the ancient Tantric techniques of harnessing sexual energy for liberation. If you're looking to blast through the illusion of 3d reality or are just curious about expanding your sexuality, Dawn's workshop cannot be missed.
Gina Sala
If you haven't heard Gina Sala's angelic voice, find a way to make it over to her Mantra workshop where Gina will immerse festival-goers in "Nada Yoga": the practice of raising consciousness through sound. Gina's repertoire spans 23 languages and her performance credits include Cirque du Soleil, the United Nations, and more. With warmth, humor and devotion, she offers Indian classical singing, Sanskrit, stories and sound tantra in classes, CDs, kirtans, and retreats.
Nandhiji Tapasyogi
A former Tamil Sadhu from south India, Nandhiji has received direct transmissions from many enlightened Siddhar yogis. He's been given the charge of bringing powerful magic Mantras and ancient wisdom from the unbroken lineages of South Indian yogis to the west –in a mission to raise the collective unconscious vibration of the entire planet. If you attend nothing else, go experience the Mastery of Consciousness Workshop and /or the closing Anugraha Fire Puja. Your life will not be the same.
Radanath Swami
Radanath Swami is a highly articulate and learned American born swami. He is a disciple of A.C. Bhaktivedanta Swami Prabhupada (1896-1977) the founder of the International Society for Krishna Consciousness (ISKCON)and representative of Gaudiya Vaishnavism; the unbroken Krishna-bhakti tradition stemming from the 16th century mystic avatar Sri Chaitanya. It is truly a rare and humbling treat to have an opportunity to learn from such a master as Radanath Swami.
Saul David Raye
A well-respected, talented and charismatic Yoga teacher, Saul brings a lifetime of yogic study to a rock-infused Kirtan that will melt your heart and leave you in The Bhav. Try and catch his incredible yoga class as well. Saul combines Asana, Chi Kung, Pranayama and Mantra to bring you to a place of profound stillness.
As for the festival itself…
Bhakti Fest offers a heart-opening, consciousness-raising experience, wherein attendees have described the festival as "being immersed in the greatest conscious party you have ever experienced, filled with music, yoga, dancing, love, light, and heart centered community."
Guests will find over twenty-five yoga teachers and Kirtan artists, top notch vegetarian cuisine, bodywork, energy healing, intuitive readings and massage stations. Bhaktifest features onsite camping, a swimming pool, and "Conscious Kids Land" for children to engage in music, yoga, play.
The list of festival sponsors includes quality brands such as Coconut Bliss, Desert Essence, Dvinitree, Doterra, Essentia Water, Healthforce Nutritionals, Kevita, Namaste, Numi Tea, White Swan, Health-Ade Kombucha, and Herbal Zap.
Health-Ade was founded by a husband, wife, and best friend all looking to make the best tasting & highest quality kombucha you can buy and find ways to pioneer the scaling of this very natural process without succumbing to market pressures or compromised quality.
Herbal ZAP makes instantly dissolving Ayurvedic herbal beverages that support healthy digestion, which is the key to overall good health. Their original Digestive & Immune formula helps to naturally boost your digestive fire and Digestive Cool & Calm soothes and nourishes the belly.
All this comes together at the Gateway of the Village of Joshua Tree, California; a sacred space founded in 1940 touted as a place of peace and meditation. Joshua Tree is a powerful and rare fusion of sweeping vistas of desert, mountains and Joshua Trees; a high-energy backdrop perfectly suited for such a unique and important spiritual festival.
So bring your yoga mat this September to the idyllic Joshua Tree Retreat Center, located in the beautiful region east of Los Angeles. Enjoy this rare chance to practice with the best yoga teachers in the world, dance to sacred music by world-renowned Kirtan artists, and take workshops with personal growth leaders.
For more info visit: http://BhaktiFest.com