Dressed For Sarcasm | Interview: Steven Brooks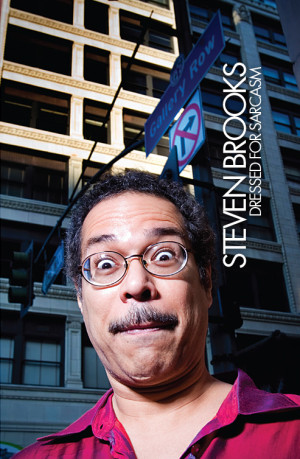 fotoboy62 | Citizen LA
Frenzied images? Tainted slogans? And biased information? It must be time for another election. As citizens of the world's most media-driven country, we gobble up social humor and sacrificial sarcasm faster than a Beverly Hills Thanksgiving Turkey on an acorn binge. Rest assured this year there will be no shortage of serious ammunition for the political cartoonist.
Carrying on this tradition of candidate cuckolding are many of LA's own artists, among them Steven Brooks. Originally a Boston native, Brooks utilizes his website, www.ColorInAble.com, to broadcast his own cultural commentary through the lives of several cartoon families he has created. The characters, mostly women, are representative of major slices of society and the stereotypical views these individual social groups project. Ranging from the Latina woman risen from the barrio, to the African American working woman, to the Asian punk rocker, these depictions lean toward supporting more liberal views of urban life while their antagonists more often than not take the form of the upper-middle class white housewife that would feel at home rubbing shoulders with the McCain-Palin cause.
Beginning in the early 90s, Steven's characters first appeared in political comic strips found in the Boston-based quarterly publication, Don't Shoot! Its Only Comics, and the biweekly press, Editorial Humor. Presented originally in traditional frame comic style, these personalities commented on the social discrepancies and major hullabaloo of the Boston area. Then, Brooks decided to bestow his characters with more portability and an expanded cultural critique to include issues of a more national concern. Cashing in on convenience and creativity, Steven began experimenting with a classic craft art that was more likely than not a favorite past time of our Founding Fathers daughters: the paper doll. Thus began the paper doll parade with Zaferne Taylor, the Homeland Security Commandant.
Zaferne first materialized as an easy-to-cut-out and very 'color-in-able' black and white stencil, wearing nothing but camou-chones, but coming well equipped to not only save her family but also the US with a year's supply of plastic tarp, duct tape, and scissors, and sporting matching camouflage cargo pants and utility vest a la the era of 9-11 inspired terrorist scares. She was later followed by Nira the Empress, Zaferne's alter-ego that draws on the powers of Bechtel, General Electric, and Siemens in her battle to enforce Homeland Security, Malice Ratrap who obnoxiously exercises her first amendment rights, and many more. Together through their abrasive humor these women work to save the world, question censorship, and stifle the existing political status quo.
If you added a cut out of Brooks himself in his paper doll line up, he would typically tower almost a foot above the others due not only to his supermodel slender frame and height but also the four-inch heels he would be sporting. Arriving to our interview in slacks, blazer, and pumps his critique stands true to his character. As boisterous and animated as his pretty paper ladies, the origin of their cause introduced himself and wasted no time in bringing his story to life. When asked to describe how a paper doll of himself might be dressed, he responded, "Probably a powerful Boston business woman in a blazer, blouse, and business skirt, but however my girlfriend, Suzie Moon, would be willing to dress me would be a go." Learning the secrets of coordinating and fashion as a result of the hands-on experience gained in dressing his characters, Steven regularly sports a variety of different women's clothing styles as a reflection of what he feels to be representative of his own true identity, recreating his look as fits the appropriate setting, one advantage that the societal double standard that affords more women an advantage than men.
When Brooks moved west from Boston, his characters traveled with him and became politically active in the city of Los Angeles. Currently, Steven's cartoons carry out their daily affairs via the World Wide Web on the ColorInAble website where they still take the physical from of paper dolls. With a link to a printable PDF version, you too can printout your own Zaferne Taylor or Lorraine Claire Hernandez complete with appropriate clothing and accessories enabling you to color in their skin, hair, and clothing. With multiple copies to color in, it would be possible to change their outer appearance as often as Sarah Palin has changed her stance on the issues and her shoes this election season.
Although Brooks' paper dolls may appear to be seemingly simple, the symbolic incorporation of the paper doll actually carries metaphoric significance for many members of the greater population. Brooks points out that as we change costumes or dress to prepare for the multitude of roles that most of us carry out in our daily lives – especially women, who change roles form mother, to business woman, to hockey mom, to trophy wife, and back to mom again at the end of the day – we too are very much like the paper doll that is constantly changing outer appearance to please our public while attempting to maintain our inner personal convictions. From a more critical perspective, the very fleeting temporal quality of the flimsy physical dimension of paper dolls also remind us that we, as a political audience and voters, are disposable; when we lose interest, the candidates simply dismiss our opinions and move on to the next interested party.
A bit more trashy, and a lot more sassy are Brooks' McDespair and President-In-Waiting mug shots of John McCain and Sarah Palin. Produced in a style that directly references the Soviet-inspired roots of Shepard Fairey's pro-Obama poster, and focusing conceptually on the same rationale that Andy Warhol leaned on when he painted the portrait of democratic candidate, Richard Nixon, in 1972, these posters carry on a thick tradition of aesthetic political discourse. Like Warhol, rather than portray the party he was partial to, Steven Brooks chose to present an image of the opposing party's candidate under the assumption that when confronted with the shallow face value of the image, the American public would realize the obvious facts associated with that choice and automatically make the intended alternative decision.
The ultimate influences of the McCain-McDespair and Palin-President-In-Waiting posters turned postcards produced by Brooks are still yet to be seen, but in the meantime the images have resulted in quite a few turned heads, capturing the attention of Obama campaign supporters. And, while some of Brooks' more liberal cartoons may be under the impression that Senator Obama would only be in favor of the affirmative work of Fairey, believing Obama has run a clean campaign, according to CNN.com Obama would more than likely be thrilled to add Brook's McCain-Palin mugs shots to his artillery of antagonistic slogans that account for 77% of his campaign ads which is quite steep when compared to "McDespair's" mere 56%.
Currently Steven is living and working in Los Angeles. When he is not managing the multiple personalities of the ColorInAble website he specializes in three-dimensional computer animation for major feature films. As an active member of the community Steven shows regularly in the traveling Cannibal Flower Gallery exhibitions that frequent the Downtown Art Scene. His gallery work also utilizes the social critique platform but incorporates his skills in three-dimensional computer animation.
Steven Brook's characters will carry on in black and white as we approach this election year's historical crossroads where we, the American public, will choose not only between Democrat and Republican, but also between black and white for the first time in this young nation's history. This decision may seem as simple for some as choosing between the black and white of this paper, but artists and media alike have shown us through their complex caricatures and critiques that this election year will go down in history books as one of the most colorful thus far. Thanks to the work of Steven Brooks, Shepard Fairey, and the many others out there that are using their art to campaign for the cause, the greater public will be enlightened to the issues at hand and better equipped to make the decision that will change this country's future forever.