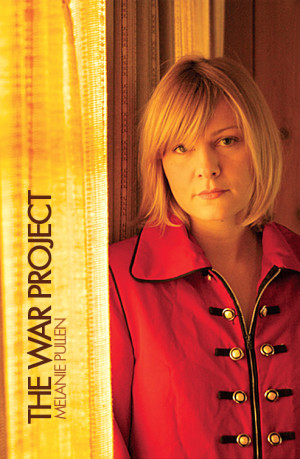 Renowned for her High Fashion Crime Scenes series shown at Ace Gallery in May 2005, fine arts photographer Melanie Pullen hopes to replicate that show's success with The War Project, a new exhibition at Ace Beverly Hills. A self taught photographer who cut her teeth working for assorted music magazines and record labels shooting bands, Melanie has defied the stolid pecking order and nepotism of LA's art scene to become an internationally recognized artist. Testament to her success is a hardcover book published by Nazraeli Press, featuring over 100 of her photographs.
Craig Stephens: What's the new series about?
Melanie Pullen: The War Project is a very dark yet kind of playful series that deals with battle and war. I love Dr. Strangelove and am toying around with this sensibility. I've been working with award winning costumers to achieve accuracy. I'm doing a modern version of what you're bombarded with when touring the Louvre, a lot of the early painters would cast male models – sometimes hundreds to mock-up faux battle scenes to paint. Part one is a series of portraits of male models that I have cast as soldiers and warriors. Part two is the Battle Scenes, which reconstructs battle scenes with up to 100 male models.
Craig: Isn't this glamorizing war imagery?
Melanie: This series is about playing with this innate glamorization and how it changes our view of history. It's very rare that we get to view historic images that aren't glamorized to some extent – even dating back to war portraiture and the great paintings that depict war. It's very interesting when you look at it from this angle and try to stay very removed from expressing your political views; it becomes something very surreal. There's also this constant intermingling of fact and fiction throughout art and media. When I do introduce violence in this series, which I go into greatly, it's very stylized.
Craig: What research/inspiration did you use for this series?
Melanie: I'm very inspired by the great historic paintings, portraiture and early photojournalism that portray war in a much more fantastical and glamorous manner such as: Jacques-Louis David's, "Oath of the Horatii"; Delacroix most famous painting: "La Liberté Guidant Le Peuple"; Rembrandt's, "The Militia Company of Captain Frans Banning Cocq"; Jacques-Louis David, "The Intervention of the Sabine Women"; and Nicolas Poussin's, "Tancred and Erminia". I love the reality of Ernest Meissonier's, "The Barricade, Rue de la Mortellerie"; and then the fantasy of Charles Le Brun's, "Alexander in Babylon."
Craig: You utilized and constructed some very elaborate sets for the new series, correct?
Melanie: I worked with New Deal Studios on a sound stage in Santa Monica. They built a set exclusively for my War Project. It's a massive endeavor taking almost one month to build and several days to shoot.
Other images have been shot in my studio (the soldier portraits), most of the images in the series are set up, set designed, fully staged and produced. I'm constructing a surreal movie like quality.
In terms of set and costume designers and make-up artists I have worked with people who have set designed for the films including The Aviator, Batman, and Terminator. My makeup artists have worked with Saul Gallegos, Geoffrey Rodriguez, and Yiotis Panayiotou. I have also used long time costumer Ivan Marquez, and celebrity Costumers/ Stylist Lauren Reichenberg.
Craig: In terms of the new series' elaborate costuming, is it revisiting the high fashion aesthetic present in the first series?
Melanie: For the Military uniforms it's more about the style dating back to the earliest combat. It's amazing looking into how men dress to kill – the way that people will adorn themselves in such lavish clothing to be remembered. For civilian clothing I'm working with both current and vintage designer clothing such as vintage Gucci, and Westwood. Current designers include: Nina Ricci and Prada. Ultimately I do love the fashion element however, I'm dealing entirely with history and the historic uniforms have yet to be outdone.
Craig: Did you study the work of war photographers in preparation for the series?
Melanie: Yes, Philip Jones Griffiths, Robert Capa, Catherine Leroy, George Silk, Lee Miller, Matthew Brady, to name just a few. I've also worked directly with the director of the Smithsonian, the National Portrait Gallery, the Air and Space Museum and have traveled to view their extensive archives on multiple occasions to research this project. I always look for images that evoke a reaction in me, images that make me curious.
Craig: Why use handsome models for the series? Isn't this again glamorizing the issue of war, twisting its pain and tragedy?
Melanie: One of the most iconic images that I can think of is W. Eugene Smith's iconic image of the man smoking. This image was of an incredibly handsome man as a result he became the poster child for the man at war.
When I was trying to recreate these iconic moments in my work I was doing it with very ordinary looking people – for some reason I was unable to create iconic images. I finally realized that the iconic images I was trying to capture had the one thing in common: very handsome men! The second I started casting male models I started getting iconic images by the dozen…it was amazing.
For more information please visit:http://www.melaniepullen.com/