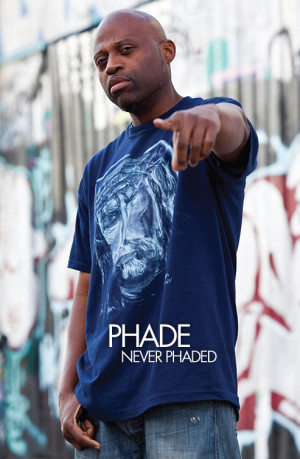 "Imagine a Mickey [Mouse] wearing Air Jordans, leaning on a Moët bottle crowned with a dukey rope chain around his neck, dripping in gold and saying your favorite songs hook."
This was the beginning. This is the future. This is classic hip-hop style.
Welcome to the world of Shirt King Phade, one-third of the unrivaled founding fathers' of cartoon and graffiti inspired airbrushed clothing, The Shirt Kings. Legendary for the their one of a kind, of-the-moment wearable works of art that adorned t-shirts, jeans, jackets -whatever you could think of – on the backs of everyone from LL Cool J, to Salt-n-Pepa, to Theo Huxtable in the early 80's, the Shirt Kings crew laid THE foundation for the street inspired urban revolution we now call 'hip-hop fashion.'
Phade, aka Edwin Sacasa, the brain behind The Shirt Kings, was born in Brooklyn. He recently gave me the backdrop for one of the most poignant movements in recent American style…
"Brooklyn is a creative place. I feel honored to have been born in Brooklyn. We moved to the Bronx when I was eight years old. It wasn't really a creative place, but hip-hop was created in the Bronx, and graffiti was heavy in the Bronx. So, I guess I took the energy from Brooklyn into Bronx; the surroundings influenced everything that I did. Bronx was called burning Bronx. But out of the ashes, ideas were sparked."
The first sparks appeared on NY's trains. Phade tagged his first train in 1977. His brother eventually moved on to girls and partying, but Phade was a child of art. He attended the New York High School of Art and Design, a "who's who of the graffiti world." And although Phade was one of the members of the earliest graf crews back in the day, he had a different agenda for his future. After high school, he enrolled at Savannah College of Art and Design to pave a new path for his future.
After college, Phade returned to the Bronx. The Bronx was still burning, but now the flames had engulfed the world he had known, too.

"Crack cocaine [had become] an epidemic. Those who were strong became weak. Those role models [I] looked up to were being destroyed mentally, morally and physically.
Phade's weapon? Art.
One of Phade's old friends from his tagging days, George (Sound 7) Velázquez, taught him how to airbrush and Phade decided to apply his tagging trade onto shirts via his new airbrushing skills. Bombing without destroying – now he was creating.
In 1984, Phade hit the streets of the Bronx and Harlem with his wares. The first slogans: "Money Making New Yorker" and "Crackbusters," – probably one of the first anti-drug campaigns launched via urban culture.
"The shirt designs were so hot and relevant that the dealers themselves bought them. Stability began to roll in. The demand was high."

Phade needed a crew. First up: Rafael "Kasheme" Avery of South Side, Jamaica, Queens. With Kasheme's arrival came the spark of success via an introduction into the world of music.
"I ended up teaching Kasheme how to airbrush. He knew Jam Master Jay and took me to his house and he bought like five shirts! That was when I knew that this could really work, cuz in 1985, RUN-D.M.C. was the pinnacle of rap!!
Kasheme & Phade soon recruited Clyde "Nike" Harewood, an old high school mate of Phade's, known for his astounding cartoon abilities, and The Shirt Kings were born.
In June of 1986, The Shirt Kings opened shop on Jamaica Ave at the Coliseum in Queens.
"The first couple of days, we were twiddling our thumbs, and I just said, 'Trust me! It's gonna happen. It's gonna take one person to see this and its gonna explode!'"
It did. "Jam Master Jay wore his shirt to the first Def Jam office at 27 Elizabeth St. Run was like, 'I need one of those!'
"We created a street buzz and everyone just came down [to the store]."
Everyone who was anyone in the new world of hip-hop in NY, Flava Flav, Salt-N-Pepa, LL Cool J, a Young Jay-Z and Queen Latifah, Bell Biv DeVoe, were showing up at Jamaica Ave to own a piece of Shirt King art.
"Soon it was a place where people could see their favorite rapper. The music became the backdrop, and the shirts reflected what everyone dreamt about: fast cars, money, designer wear and cartoons.
"Once LL Cool J wore his shirt, wow! He was on the cover of like ten different magazines. That took us into a whole other stratosphere."
One of LL Cool J's magazine covers was for Rolling Stone. The Shirt Kings were officially part of hip-hop history and hip-hop future.
***
It's twenty years later, and Shirt King Phade has moved to LA to reclaim his right to the hip-hop fashion throne. I caught up with him to talk about his new t-shirt line, store, charity work, his documentary and soon to published photo memoir.
J.B.Jones: It seems the Bronx was a huge part of why, or how, the Shirt Kings' concept came about…
Phade: I just integrated my surroundings, everything I was exposed to as a young black man growing up in Brooklyn and the Bronx. Everything that I saw was put on the shirt, you know. My plight was put on the shirt. My heart was put on the shirt. The graffiti.
J.B.Jones: Hip-hop clothing is now a multimillion-dollar industry. You are one of the founding fathers of the whole movement, how does that feel?
Phade: At the time, you don't know you're being a pioneer. You're just doing what you're doing, and enjoying yourself.
J.B.Jones: What's your take on the state of today's hip-hop fashion empire?
Phade: I'm impressed, but it's got no originality. That's the only thing that has died out. Everyone is copying each other. We're in a time when, I guess, the idea tank is just done.
J.B.Jones: Tell me about your inspirations while growing up, or even today. Has the media – books, music, film – played a significant role in inspiring you to achieve your goals?
Phade: I draw a lot of my inspiration from life's lessons and personal experiences. Every phase of my life has been governed by media influence, whether it is music, a book or a movie. As a young man growing up in New York City the pulse of the city is often dictated by some sort of media outlet.
Many martial art movies and blaxploitation movies such as Bruce Lee's 'Enter The Dragon, '13th Prince,"Cooley High,' and the cult classic 'Cornbread Earl and Me' were part of the street educational process.
Poetic musical presentations of life by The Last Poets', 'Hustlers Convention,' directed us to live a life of hustle with some hope at the end if we survived the perils of the street!
Books like Claude Brown's 'Manchild In The Promised Land,' Charles A Shafer's 'Cabrini Green,' 'Down These Mean Streets' by Piri Thomas enlightened me to the fact that there is a unified struggle throughout the inner cities of America.
The comedy of Richard Pryor and Redd Foxx helped us laugh at life's situations.
All these mediums offered a life style and presented choices. Most offered solutions by either physical endurance, or sheer street smarts, or comedic relief.
J.B.Jones: What about other artists – did anyone have a great influence on your development as an artist?
Phade: I remember my mother bought me this Peter Max towel and I used to stare at it – for years! The psychedelic colors in that towel! When I started getting into graffiti, I was like, 'Wow, it's kind of like the same thing!'
J.B.Jones: What about LA – has being here influenced you in a way similar to NY?
Phade: LA is just making me think different. It has taken my thoughts to a different level. I've envisioned doing the Shirt King thing all over again, you know, starting out in the hood, but its already been done. When I go to the galleries here, the guys there are like, 'You're a pioneer!'
J.B.Jones: How has your art progressed since you were a twenty-something airbrushing tees for the hip-hop elite?
Phade: It's still evolving. There are things that I want to do and I just haven't been able to do them yet. I really want to be an artist and I haven't – [the shirts] is the stuff that is marketing. [Being an artist] is what I always wanted to do, all my life. But I always get drawn into a different direction because of what people perceive me as.
J.B.Jones: Does this mean you are going take a different direction with the new Shirt King Phade t-shirt line?
Phade: It can start [the same as before] and then it can expand. But I will give the people what they want first. And when I can get to a comfortable level, then I can set my mind to it.
J.B.Jones: You have so many projects going on, one of which is the opening of the Shirt King Phade store. When we first met you had mentioned offering classes to kids interested in learning the art of airbrushing. Is reaching out to the youth an important concept to you?
Yes! It's one of my goals. That's the main thing -if you're not giving back, what's the purpose? I think that's why some artists rise and then fall, It becomes all about me me me! You know? Once you become a conduit, it comes through you and then you just pass it out.
As the interview closed, I couldn't help but think of that quote that seems to be plastered all over everyone's myspace these days, by Mahatma Ghandi's…"Be the change you want to see in the world." Albeit overused, it rings true here. Phade encompasses what I think we all strive to be: a stronghold in the face of adversity, maybe even more than a stronghold, however, he is a fighter in the face of adversity. He came out on top – he came out a legend, in fact. Maybe Myspace isn't so irrelevant after all…
J.B.Jones: Last one: What is your advice to the next generation?
Phade: Follow your dream. Listen to your parents! Just be creative. Take it to new heights, and do something that's going to awe somebody.

***

After the interview, Phade sent me an email, just to say thanks. Written at the bottom, I found a quote I had seen from him a couple times: "Never give up, just get legit."
What'd I say – a stronghold? A fighter? A legend? Let's add inspirational to the list.
Find Phade @ www.myspace.com/shirtkingphade. Tell him you read it all here.