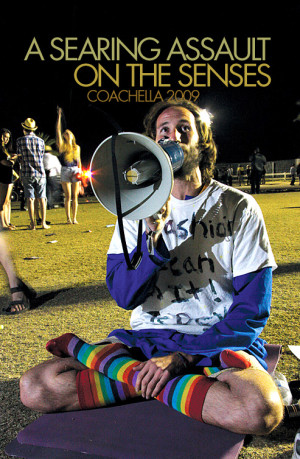 Where can you see a bazillion bands in three days while searing in beautifully unforgiving 100 degree heat? Where can you stumble into a love circle while shrooming in a well-manicured parking lot? Where can you spend endless hours with friends who share the same fundamental disdain for bad karma? It's the one. It's the only. Coachella.
A haven for the artistically insane, the Coachella Arts & Music Festival is an assault on the senses. Every year since 1999, a seriously eclectic entourage of visual artists, music acts, vendors and attendees from all around the globe converge on the Empire Polo Field in Indio California for three long sun-drenched days.
Whether roughin' it at the onsite campgrounds or staying at a resort in Palm Springs or chillin' at a posh country club in Palm Desert, once you enter the Coachella playing fields you're at the mercy of the event producers. In this case, it's run by good ol' Goldenvoice and MSOPR, and they really know how to throw a freakin' party.
The festival is open to anyone with $100 bucks a day, which pretty much ixnays the dipshits, party crashers and weekend warriors. Toddlers can also be seen making the rounds about the grounds, most wearing oversized protective ear-wear and looking cute enough to eat.
So what does it take to make it through the three intense days? Well, you gotta really wanna do it. No whiny shits here. If you got a frail over-emotional girlfriend, leave her home. There were plenty of these types passed-out on the 50-mile hike to the main event grounds. For those that have a self-centered asshole boyfriend, ditch him and go with the girls. Heat, testosterone and cheap beer should immediately give any girl the right to cheat on her boyfriend (and call Jim Marquez!)
As for lodging, it definitely helps to have a safe-house to run back to and decompress from a 12 hour day of drinking and looking for your drug dealer. So don't drive up and drive back on the same day. Spend the money get a room and relax; your date will appreciate having sex in a bed for once.
On-site camping seems like the perfect solution for those that are into after-after-hour secret DJ sets, 5am conga lines, sleeping on the ground and strangers eating from your igloo. Off-site accommodations include everything from crappy motels to exclusive spa resorts with thermal springs and mud baths. Though there is no right or wrong place to stay, we suggest staying at a moderately priced spa in Desert Hot Springs where you'll find lots of naked people floating in the hot tubs and doing cannonballs at 3AM.
A large portion of the attendees begin rolling in between 4 & 5pm once the sun starts to set. This may be a good choice to keep makeup from running down your face but it'll guarantee being stuck in bumper-to-bumper traffic for almost an hour simply to get into the parking lot. People were seen parking miles away to avoid the car jams, but knowing that you'll walk at least 10 miles every day on the grounds during the event, adding another couple of miles of walking to avoid traffic is suicide.
Once in the event, general survival skills are augmented by an excellent assortment of food and beverage vendors including hamburgers, hotdogs, wraps, Thai, BBQ, Philly cheese steaks, tacos, nachos, ceviche, lemonade, shaved ice, churros, and a surplus of other munchables which dot the landscape. The best news is that the water is cheap and if an official Coachella bottle is purchased, the water is only $1 per refill.
Those treated to a VIP ticket are greeted with shorter booze lines, upgraded bathrooms, an elevated view of the main stage, a better chance of finding lost friends, and bragging rights. VIP entrance also gets attendees close to the press tent where they can watch jaded reporters and photographers toiling over their masterpieces.
The entertainment begins at noon, so getting there early will show support for all the hard-working artists who must battle the sun. Yes. It'll be God-forsakenly hot, BUT there is plenty of water to be found and plenty of shady nooks in which to rest.
Case in point, The Do Lab and the Lucent Dossier Experience once again teamed up to shower the parched crowd with amazing art, unforgettable performances and water cannons. The only thing better than that, would be an ice-cold tequila fountain. (Hmm…the Citizen LA "Patron-a-tron"?)
As for the entertainment, with a music lineup that included Thievery Corporation, Silversun Pickups, Paul McCartney, Leonard Cohen, Franz Ferdinand, Public Enemy, Brian Jonestown Massacre, X, Beirut, the Crystal Method and the Chemical Brothers there was something for even the most out-of-touch attendee.
Favorites? The Silversun Pickups whose raw energy compares to the Smashing Pumpkins first album "Gish" or Sunny Day Real Estate's "Diary". As for electronica, Parisian house-guru Etienne De Crecy had the crowd bouncing off the walls like the old days of Club Giant at Circus Disco in Hollywood.
The verdict: Citizen LA endorses the ecstatic pleasures that transpire through the glory of pain & the magnificence of suffering… that said, this adventure rates high on our list of "must-dos" before you die.
(Special Thanks to the Palm Desert Greens Country Club & the Caravella residence.)